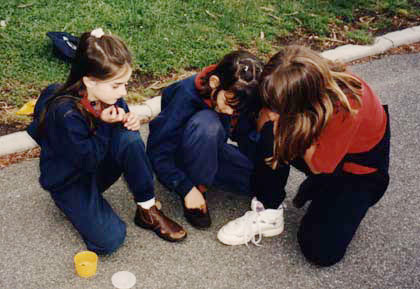 Girls counting out using their feet.
I live in one of the oldest towns in America. About 120 or so years ago, our library acquired a monograph whose name heads this posting. I'm so enjoying reading the prose of that bygone era, that I find myself writing in similar style and laughing to myself in the process.
Counting Out Rhymes
It is a collection of "counting out rhymes" from all over the world. The term "counting out" is so antiquated, I needed to read several pages just to figure out what it meant. To illustrate the definition of the term, I offer some modern examples which colored my childhood.
My mother and your mother were hanging up clothes
My mother punched your mother smack in the nose
What color was the blood? (child chooses a color, let's say, green)
G R E E N and you are not it!
or
Eeny, meany, miney, mo
catch a tiger by the toe
If he hollers, let him go
and my mother says that you are not it!
Now in these days of everybody being a winner and nobody getting "out," you might say that there is not place in our brains to learn such "doggerel," (did I mention how much I'm enjoying the language of the 1880s?) But the savvy music teacher can use these rhymes to great effect. Here are some ways.
Be a Kodaly anthropologist
Children are very honored when you take their music seriously. And when you are interested in one of their playground rhymes, that blows them away. Recording them, getting every word right, making sure you get their name right on the citation for your notebook, taking note of the location and date of the collection of the folksong or rhyme, all show the child that you take them seriously and you see their culture as worth knowing.
Collecting their rhymes, you will begin to see patterns. I noticed that children who live by the sea do similar clap-passing games, be they Asian, European, Australian, or African. Perhaps you know such a rhyme. In New England it's called "Clap Delioso." Children sit cross-legged, both hands palms up, one hand on ones own knee, the other on one's neighbor's hand. The clap is passed around the circle by each child clapping their own hands but hitting the next person's instead. Here is the pattern, but the players aren't chanting or singing.
Build Relationships
When a child shares a similar game with me, I share what I learned from another part of the world with them. They love to help me research music, and they love to feel connected to children around the world. It's exciting to feel that our games are older than our differences. That kind of connection is always a good thing to foster.
ESL students often feel marginalized and stupid in their new language environment. By taking their songs and games and writing them down, you validate the student they bring to your classroom. Instead of trying to be a copy of those around them, they can aim to add to who they already are. The difference is monumental!
In the next several posts, I'll be sharing tidbits from this book. I'm enjoying the journey back in time and hope you'll enjoy it with me.